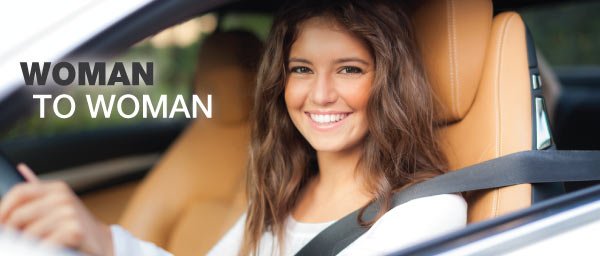 The automotive arena is no longer a male-dominated industry. In fact us women are buying cars and influencing car-buying decisions more than ever before. Not only are we influencing car sales, but we are also shown to be the key decision makers in 80% of new car and truck purchases. According to American Women Road & Travel Magazine, women are spending about $300 billion annually on car sales. In addition to this there is maintenance for our cars, repairs and other miscellaneous services. Here at
Okotoks GM
we understand that it is important that a woman feels as comfortable as possible with the car buying process, as a car will be one of our biggest purchases in life next to a house.
At
Okotoks GM
, we're committed to helping our customers find the perfect vehicle that fits all their needs. When shopping around for a new vehicle, we women look for different features than men. We tend to focus on reliability, storage space, environmental conscientiousness, style, technology, safety and of course price. A vehicle will become many different things to us women - a theatre for our children when traveling, a commuter vehicle to and from work and a place to spend time with friends on a road trip. We understand this and we also understand that purchasing a vehicle is a long term commitment.  We will do what it takes to make our customers feel as comfortable as possible.

Once you're here, our
Okotoks GMC dealer
will make your car-buying experience an enjoyable one. After all, buying a new car or
new truck near Calgary
 should be exciting for you. Before the sale we will do research to ensure we know exactly what you are looking for and do all that we can to find it. During the sale we will go through a thorough process to ensure there are no questions left unanswered. After the sale we will do all we can to guarantee you are satisfied with your purchase and will help you with any maintenance you may need in our
Calgary service
centre.
Okotoks GM has many great woman-to-woman Sales, Fleet & Leasing Consultants. They are here to make your purchasing experience as easy and stress free as possible, whether you're shopping for a
2017 Chevy Silverado 1500
or something used. They can help you with any of your vehicle or financial needs as well as any questions that you may have. Most of the paper work can be handled via fax or email if time is an issue. If you want to speak to a woman who can relate please feel free to contact any of them using the information below:
Cory Hambling
Finance Manager
Phone: 403-938-8440
Email:
chambling@okotoksgm.com
"I am the Financial Services Manager at Okotoks GM, and I have over 17 years' experience with GM. I am a local resident and grew up in the area. When I am not at work I enjoy spending time with my family and two daughters. "
Kyra Thomson
Sales & Leasing Consultant
Phone: 403-938-8443
Email:
kthomson@okotoksgm.com
"I am a Sales and Leasing Consultant here at Okotoks GM. I attended Grant MacEwan University and have now started my career in sales. I enjoy being outdoors with my dog and my family, snowboarding, hiking, and traveling. One of my favourite things to do is head back to the farm that I worked on as a teenager and lend a hand where I can!"
Rashelle Ganske
Sales & Leasing Consultant
Phone: 403-938-8451
Email:
rganske@okotoksgm.com
"I moved to Okotoks four years ago from Calgary and we have no plans to ever leave this great town. I recently transferred to the sales team from the service and parts department of the dealership, bringing my experience and knowledge of all aspects of the vehicles with me. Being a mother to two busy boys, their hobbies and activities are mine. Whether it is volunteering with their hockey team, helping coach their baseball, cheering them on from the sidelines of the football field or just being their taxi, we are always on the move. We take family time when we can to enjoy the simple things; walking our puppy, fishing, camping and entertaining friends."
Donna Bayly
Finance Manager
Phone: 403-938-8438
Email:
dbayly@okotoksgm.com
"I've been a finance Manager for 18 years. In our downtime, my husband and I are outdoor enthusiasts enjoying golfing, snow shoeing, and gardening. Throughout the summer we retreat to the tranquility of camping with family & friends."