When was your last brake check? At Okotoks GM our brake shop provides brake service that will get you safely back on the road.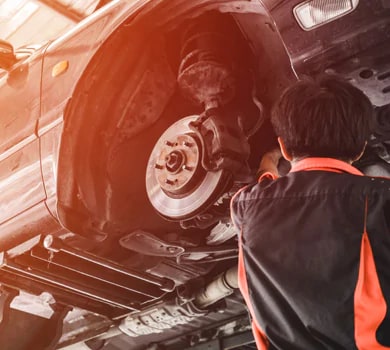 Brake Service and Repair

Your cars brakes are perhaps the most important part of your vehicle. Well functioning brakes keep you and your family safe every day, and allow you to comfortably contend with all the challenges Southern Alberta roads have to offer. Brake checks are important, and brake service to ensure your brake pads, rotors, brake lines and calipers are in perfect working order to keep you safe and secure. At Okotoks GM, we believe in maintaining your vehicle right, and doing it with a smile. Great customer service is at the heart of your brake service experience, so come in, relax in our waiting area and have a complimentary coffee on us.
Brake Service, Front & Rear
---
Brake Pads

Brake pads are crucial component of your cars safety features, and provide the friction needed to stop your vehicle.

Brake Rotors

Options are available if your rotors are worn out and require replacement. We offer original equipment, or aftermarket options at competitive prices
Brake Lines

Brake lines transfer hydraulic pressure to the wheel brakes using brake fluid. We can replace lines and top up fluid.

Calipers
Brake calipers deliver the brake pads to the rotor when cylinders inside the caliper are filled with fluid. We've got them for your vehicle.

Performance Brakes

As one of Albertas premier parts dealers, we sell and service performance brake parts for all makes of vehicles. 

And More...
Our experts provide brake service and repair for car, truck and SUV brake systems including all makes and models.

Our Commitment to Great Customer Service
At Okotoks GM, great customer service is our top priority. We want to give you the best service possible because you and your vehicle deserve to be treated with care, and respect. You'll notice our commitment to customer service the moment you pull up to get your brakes fixed.