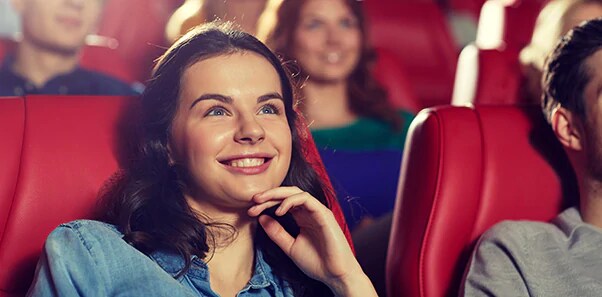 Okotoks GM is celebrating June with "Service and a Movie"! Every time you get your vehicle serviced at Okotoks GM in the month of June, you'll be entered to win a trip to the movies on us, including tickets and delicious snacks.
With such an amazing offer, you'll want to plan your movie-going experience right from the get-go. Here's what's playing at Cineplex to get you excited:
Godzilla: King of the Monsters
Do you want to see Godzilla, along with Mothra, Rodan, and King Ghidorah duke it out in an epic war? We thought so! This movie is made even better with Vera Farmiga, Millie Bobby Brown, Kyle Chandler, Sally Hawkins and Ken Watanabe as a few humans to compliment some monster madness.
Rocketman
See the transformative story of Elton John, a British pop icon played by Taron Egerton. Egerton does his own singing, filling the shoes of the star with a stunning rendition of the role.
Dark Phoenix
Sophie Turner, known for her role in Game of Thrones, gets a lead role as Jean Grey in the latest addition to the X-Men franchise: Dark Phoenix. The performance is backed by fellow mutant portrayed by James McAvoy, Michael Fassbender, and Jennifer Lawrence.
Late Night
Starring as a late night talk show host on the verge of being cancelled, Emma Thompson is the only female host on air. Teaming up with the only female writer on her staff played by Mindy Kaling (who also wrote the screenplay), together they team up to make the Late Night show a hit again.
Men in Black: International
Steering away from the familiar Will Smith/Tommy Lee Jones duo, the fourth Men in Black movie stars Tessa Thompson and Chris Hemsworth as perfect comedic action heroes.
Child's Play
Do you remember a certain serial killer possessed doll from the 80's, and 90's… and 2000's? Well, Chucky's back and Aubrey Plaza stars as a mother whose son's doll up is up to some seriously no good business.
Toy Story 4
The toys are back in town! Get ready for the newest adventure. The fourth movie in the epic Toy Story franchise has the entire gang getting up to their neck in trouble.
Yesterday
Imagine a world without The Beatles! That's the premise of Danny Boyles latest comedy about a struggling musician (played by Himesh Patel) who wakes up to find that no one in the world has ever heard of The Beatles. He passes to new heights of stardom after passing all their songs off as his own.