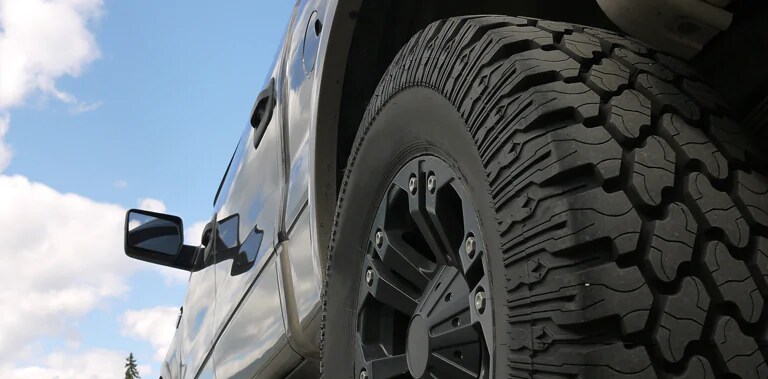 There are several different ways to lift your truck, and doing so will inevitably affect its usability, off-road capability, comfort and driving dynamics. This is why it is essential to know all the options and choose the one that best suits your needs and budget. We're here to help.

Most trucks are initially designed to be off-road capable machines which can endure heavy loads and tow a mountain. Manufacturers also do their best to provide the best mix of usability and practicality, and choosing a sweet spot for ground clearance plays a big role in that.

However, some people visit roads that are rarely (or never before) taken, and the manufacturers sweet spot for ground clearance just isn't enough. The answer to this dilemma is an aftermarket suspension lift. There are several ways to lift your truck and we will present them all.

Make Sure You Need to Lift Your Truck

When people talk about lifting their truck, many people actually think of leveling, not lifting. Trucks are designed to carry heavy loads so on some models, the rear is elevated when the load bed is empty in order to compensate for the drop when the truck is loaded.

People who do not use their trucks for heavy loads often want to level the front and rear of the vehicle. Leveling kits are used to lift the front of a truck to make it match the rear. This is usually a cheaper endeavor than lifting, as the rear suspension remains intact.

Leveling does not change the load capacity and it gives a bit more room for larger tires.

What it also does is decrease the departure angle, so if you are looking to make your truck better for off-road conditions, leveling will actually make it a bit worse. The loss is usually not large, but in heavy off-roading centimeters are precious.

Pros and Cons of Lifting Your Truck

First of all, it just looks meaner, doesn't it? On the practical front, a lifted truck has more ground clearance and increased approach angle, departure angle and break-over angle.

The negatives of lifting your truck include a change in steering geometry and response for some options, an increase in body roll and, if you opt for a larger set of tires as well, your suspension and steering will need to work harder. If you go for extreme lifts, these parts might also need some aftermarket replacement.

However, not many people buy trucks to carve corners on the track and shave off seconds from their lap records. Lifting is about practicality and off-road ability. OK, and the looks. So, let's have a look at the options.

1. Body Lift with Spacers

Most trucks are body on frame, so using a spacer between the body mounts and the frame lifts the truck. This preserves the stock steering feel and gives more room for bigger tires, or other parts that need more space such as larger engines and gearboxes to match. Similarly, installing a PTO is also easier with spacers.

2. Suspension Spacer Lift

Spacers can be used between the suspension mount and suspension parts. If you are doing this on a vehicle with leaf springs, the spacers are placed between the leaf and the axle. If you have coil springs, spacers are used at the top or bottom.

3. Aftermarket Coil Springs

Replacing a coil spring for a different one is an easy way to lift a vehicle. You can even target the spring rate and height as there are so many aftermarket options out there. Furthermore, if you really can't find what you want, springs are basically just springs and they can be custom made to suit your needs perfectly.

Another option in this respect is coilovers. They are mostly used on sports cars for lowering or stiffening the ride, but their adjustable features allow a lift as well. Generally speaking, coliovers are more expensive than springs alone.

4. Leaf springs

If you have leaf springs, you can add a leaf to the existing setup to increase the height. For more extreme lifts, you can also replace the entire setup for one that meets your desires. Just like coil springs or torsion bars described below, different kinds of leaf springs can give you more comfort and more strength for heavier loads.

5. Torsion Bar Lifts

If a small increase is all you are after and you have a torsion bar, you might be in for the easiest of all options, as most torsion bars come with adjustment bolts that change the height of the vehicle. There are different kinds of torsion bars, so aftermarket ones can give you a more supple ride, or abilities that enable heavy-duty usage.

6. Solid Axle

Solid axles are still very common and they enable large lifts. However, with big fluctuations in height, you will also need to change a number of other parts on your vehicle to accommodate the change. Also, you might need things like drop-limiting straps to control the drop.

7. Air Suspension

If your vehicle already has air suspension, small increases can be obtained with ease. Tampering with the sensors that inform the computer of the height of the ride gives the computer information that the ride is lower than it really is and the computer orders a lift to compensate. Voila!

However, as this means that more air is added by the compressor, the ride is also stiffer. To fix this, you can use spacers which allow for the same lift but with less air used.

If you want large lifts or aftermarket air suspension, these usually demand elaborate and expensive custom adjustments.

Other Lift Adjustments

Increasing the height of your vehicle and possibly adding some new suspension parts changes a few things. For example, larger tires make your odometer and speedometer show lower values than the actual ones. In most modern vehicles this is a simple electronic fix. In older ones, it is a mechanical change. Anyway, you should check the difference in percentage between what your dashboard instruments show and what GPS shows.

The increase in tire diameter will also reduce the revs at a given speed, which will simultaneously reduce torque in low revs. This can be kept as is, or adjusted using new gearing.

Steering and braking are also affected. Both sets of parts will have to work much harder after lifts and with bigger tires, so more heavy-duty parts might be necessary.

If you're interested in lifting your truck, Okotoks Chevrolet Buick GMC has the expertise you need. Our parts specialists and certified mechanics have the knowledge to make your lift a success and achieve the off road results you are looking for. Give us a call at (403) 938-7874, or visit our Okotoks car dealership near Calgary at 101 Northgate Drive.